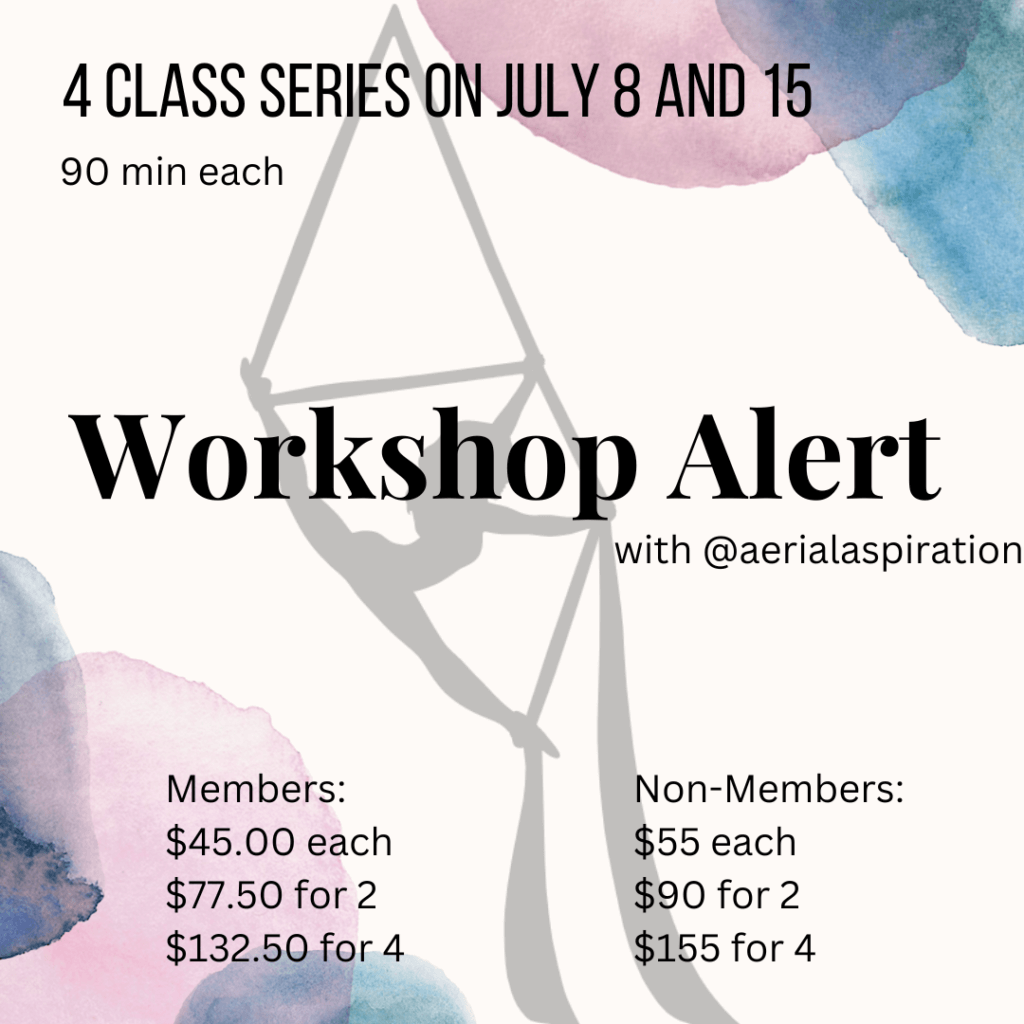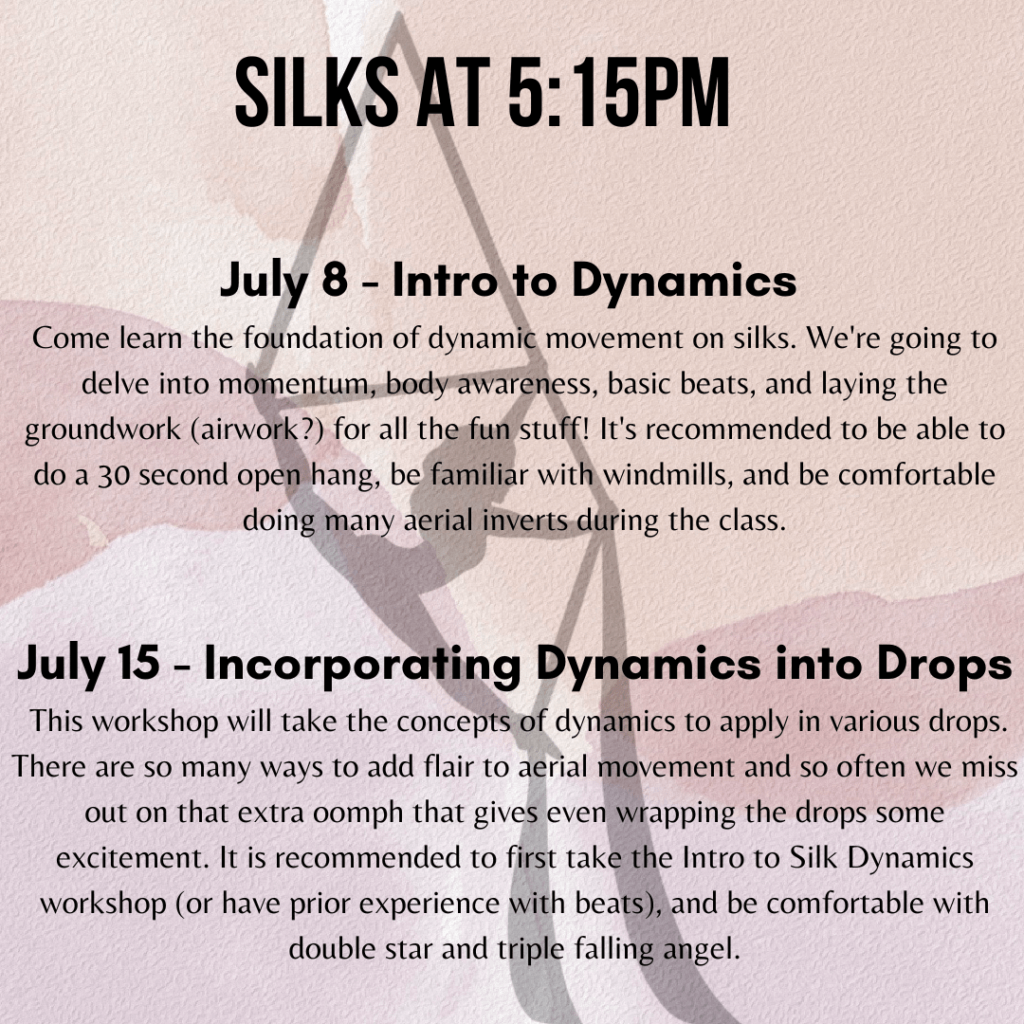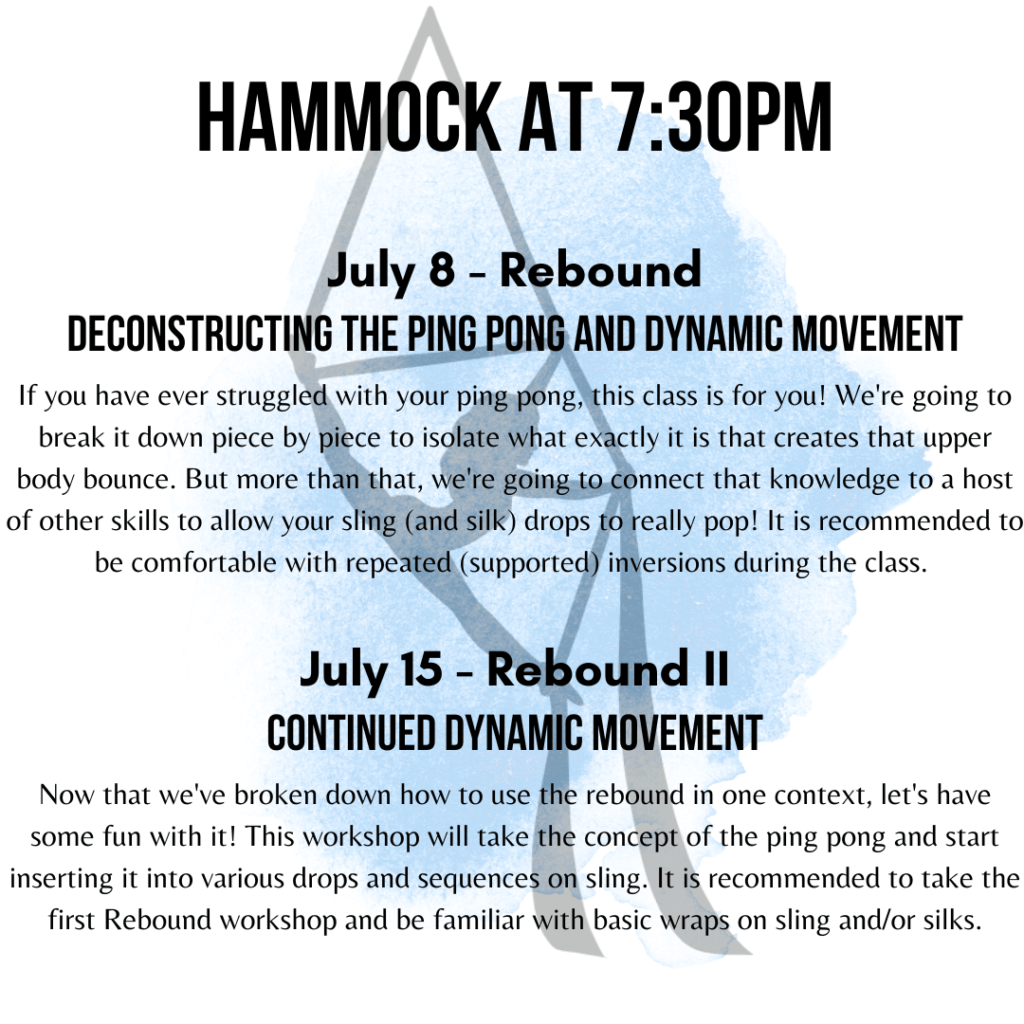 Liesl Klaue
Silk & Hammock Workshop
July 8 & 15
Description:
July 8th
Intro to Silk Dynamics – 5:15PM
Come learn the foundation of dynamic movement on silks. We're going to delve into momentum, body awareness, basic beats, and laying the groundwork (airwork?) for all the fun stuff! It's recommended to be able to do a 30 second open hang, be familiar with windmills, and be comfortable doing many aerial inverts during the class.
Rebound – Deconstructing the Ping Pong and Dynamic Movement on Sling – 7:30PM
If you have ever struggled with your ping pong, this class is for you! We're going to break it down piece by piece to isolate what exactly it is that creates that upper body bounce. But more than that, we're going to connect that knowledge to a host of other skills to allow your sling (and silk) drops to really pop! It is recommended to be comfortable with repeated (supported) inversions during the class.
July 15
Incorporating Dynamics into Silk Drops – 5:15PM
This workshop will take the concepts of dynamics to apply in various drops. There are so many ways to add flair to aerial movement and so often we miss out on that extra oomph that gives even wrapping the drops some excitement. It is recommended to first take the Intro to Silk Dynamics workshop (or have prior experience with beats), and be comfortable with double star and triple falling angel.
Rebound II – Continued Dynamic Movement on Sling – 7:30PM
Now that we've broken down how to use the rebound in one context, let's have some fun with it! This workshop will take the concept of the ping pong and start inserting it into various drops and sequences on sling. It is recommended to take the first Rebound workshop and be familiar with basic wraps on sling and/or silks.
Liesl's Bio:
Liesl "aerialaspiration" Klaue grew up fascinated by acrobatic and aerial arts and actually started as a trampolinist. Liesl became a committed aerialist in 2017, focusing on silks but dabbling in rope, straps, hoop, hammock, duo trapeze, hand balancing, and hand to hand. Since then, she has trained in several studios in BC, Las Vegas, Los Angeles, and even London, England. Currently, she is based in Kelowna, BC where she trains and coaches students all over the world. She specializes in drops, dynamics, and wrap theory.