ABOUT US
Welcome to AcroFit, where you'll find aerial and acrobatic fitness classes such as aerial silk, hoop, hammock, aerial yoga, pole dance fitness, acrobatics, flexibility and handstands!
People often look at acrobatics and think "there's no way I could do that" and feel intimidated. We want to break through these misconceptions, to show that these skills can be achieved by anyone, and that you'll have a blast while doing it! Regardless of your skill level, whether you're a beginner or a professional looking to up their game, our top level coaches will ensure you get the training you're looking for.
Our 3000 sq.ft facility features 30 foot high ceilings, and 3 separate studio spaces for our various programs.
Studio 1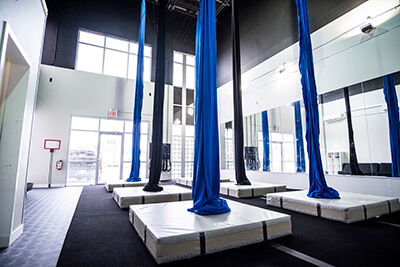 Our main room can accommodate 6 aerial rigs, and is home to our silks, hoop, hammock, and aerial yoga classes.
Studio 2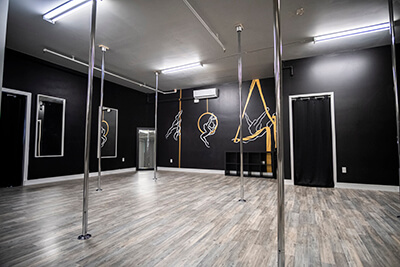 Our second studio is home to our pole fitness programs including static, spin pole, choreography, and twerkshop.
Studio 3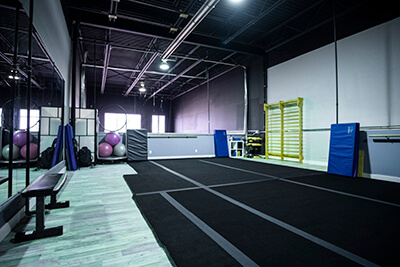 Our upstairs studio is where our acrobatics, flexibility, and handstands programs are held.

Acrofit is also home to professional performing group Dynamic Aerial & Acrobatics, founded by Acrofit owner Daina Wilkie. D.A.A. provides high level contortion, aerial, and hand balancing acts for corporate parties, weddings, and other events. Click here to find out more information!
Meet the Team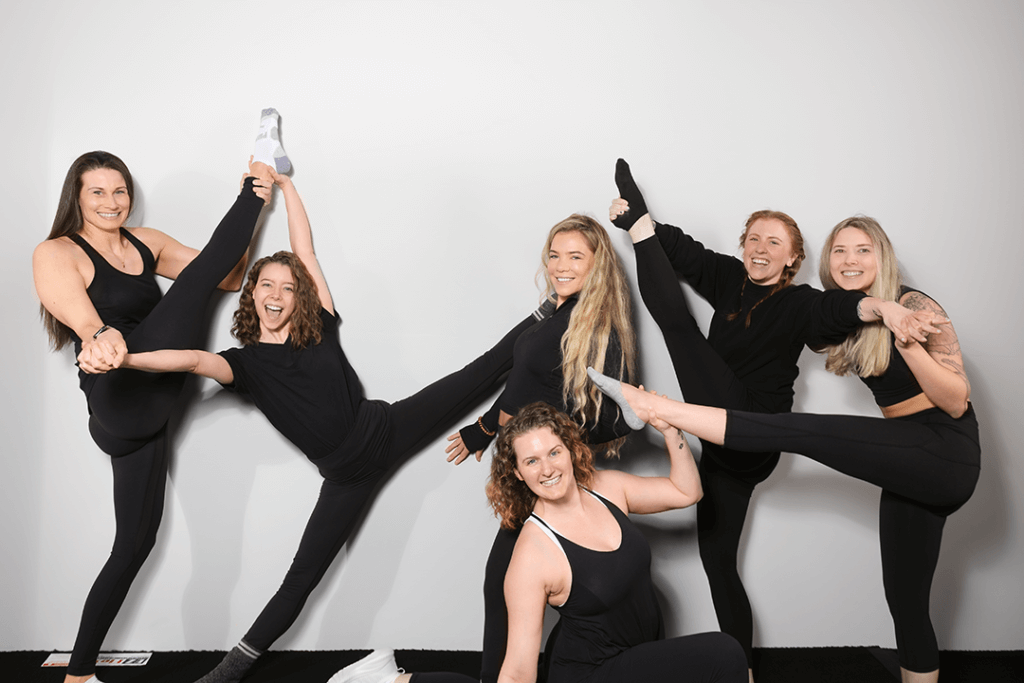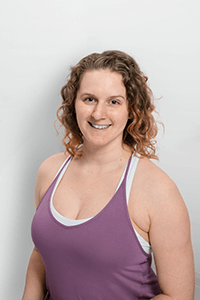 Daina - Owner / Director
Daina fell in love with the art of Acrobatics at the age of 5. She has now trained for over 20 years as well as coached for 10 years, with her primary specialties being contortion, hand balancing, and aerial hoop. Daina also owns and manages Dynamic Aerial & Acrobatics (www.dynamicaerialandacrobatics.com) which specializes in professional aerial & contortion performances and classes. Daina has had the opportunity to perform at the 2010 Olympic Winter Games, Z95.3's 2014 Launch Party, Global TV Christmas Parties and at many corporate banquets and weddings.
Growing up, Daina has had the privilege of training with Aldeana Bawtenheimer for 12 years & Anne Lawton from Westcoast Contortion & Acrobatics for 6 years. As well as some well known circus performers from Las Vegas, Nevada such as Cirque Du Soleil veteran Otgo Waller and Kristi Toguchi. Each year Daina tries to further her teaching education and has received acro-related certifications in Alixa Flexibility Level 5, Acrobatics Arts Level 2, Aerial Arts certification with A.A.C and AFSA Associate Teacher.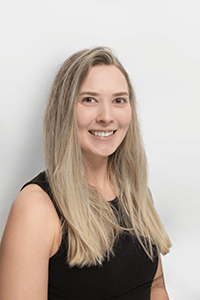 Teghann - Studio Manager & Pole / Hoop Coach
Teghann began her pole journey in 2014 and instantly fell in love with it. After training for years, she moved to teaching here at Acrofit. As an instructor, Teghann loves connecting with her students and helping to boost their confidence by teaching tricks from a progressive curriculum that she spent years designing herself. She prides herself in making people feel welcome, strong, and capable and will always try to leave you happier than when you came. Teghann thrives on making people laugh and aims to foster personal connections, as well as fitness goals, with every student that walks in her room.
When she's not in the pole room you can find her taking other classes around Acrofit (her favourites are flexibility and hoop)! Outside of Acrofit, Teghann loves to read, write, hike, and travel. Teghann's real passion for pole shines, not through her dedication to the sport, but through the enjoyment she gets from passing on her knowledge and technique to her students.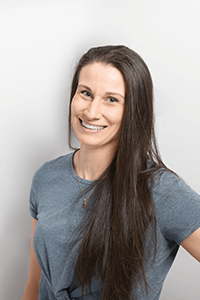 Erin - Silks Coach
Erin Fell in love with Aerial Silk in 2015 when she was looking for a non typical way to exercise. Training Aerial Silk has satisfied her adventurous side and she found it an amazing way to work out! With Erin's background in gymnastics, her transition to Circus was very smooth. Erin has trained silk with AcroFit's very first aerial coach Brook Pinard and Kimberly Dioszeghy from West Cost Flying Trapeze. Erin also enjoys training Contortion with Daina Wilkie from Dynamic Aerial & Acrobatics.
Before training in circus, Erin was a registered nurse. She has her Bachelor of Science and Bachelor of Science in Nursing. When the opportunity to coach Aerial Silk came up, she decided to take a break from nursing to run away with the circus! Erin currently also works as a life guard and teaches swimming lessons at a local public pool. She hopes to continue learning and growing as a Aerial Silk coach and can't wait to share her knowledge with the students here at AcroFit!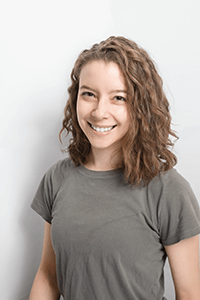 Paula - Silks / Hammock Coach
Paula took her first aerial silks class at Acrofit in 2017 and instantly found her new passion. After playing soccer competitively for most of her life, she was looking for a new and fun way to stay active. Having always been in awe of Cirque du Soleil acrobats, Paula knew that she had to give circus arts a try!
Paula is a Rehabilitation Assistant by day and started coaching in 2020 at Acrofit where she currently teaches aerials silks and aerial hammock. She has so much fun sharing her passion and helping others achieve their goals. The studio is her happy place and she loves to see her students come to know the studio as their happy place as well.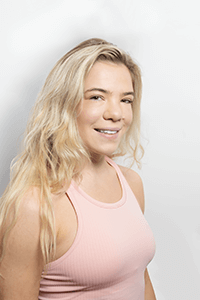 Marissa - Contortion / Flexibility Coach
Marissa has had a passion for the performing arts since a very young age. She started training in the discipline of gymnastics at the age of 3. She also had years of training in jazz, theatre, lyrical, ballet and modern dance. However, it wasn't until she had a backstage tour of a Cirque Du Soleil show that she found her true passion for the circus arts. Marissa became a member of West Coast Contortion and Acrobatics where she began training and performing in the elite discipline of Contortion with Anne Lawton for 5 years. After, Marissa decided to start performing and teaching for Dynamic Aerial & Acrobatics along with teaching at various other studios around the lower mainland.
Over the years Marissa has had the privilege of training under world renowned Mongolian contortionist, Otgo Waller and Aerialist Kristi Toguchi of Las Vegas and from Vancouver, Handbalancer/Aerialist Tyler Aryes, a former Cirque Du Soleil performer. She's performed in various private and corporate events throughout the lower mainland such as the EA Sports holiday party, Top 30 under 30 event & the 55 + BC Summer Games. Marissa has gone on to take her A.F.S.A (Acrobatic Federation of South African) exams as well as her Mod. 4 Flexibility Instructor certificate through Alixa Flexibility, and is also certified under Acrobatic Arts module 1. Marissa is excited to share her passion of this beautiful art form through her performing and teaching.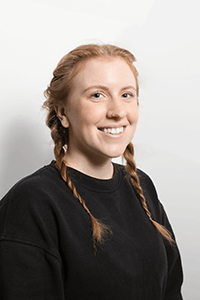 Katie - Silks Coach
Katie first discovered Aerial Silks thanks to close friend and fellow coach, Paula. In 2017 they were looking for a fun and exciting new activity to try and, needless to say, the rest is history. Throughout childhood, Katie dabbled in ballet and gymnastics - eventually leaning towards yoga in her later teen years. It wasn't until training at Acrofit, that Katie ended up finding the perfect balance she'd been looking for. A challenging, yet fun, activity that ended up pushing her more and more. In and out of the studio. Katie is currently attending Douglas College and will graduate with a certificate in Community Mental Health Work. She looks forward to her first season of coaching as of July 2022.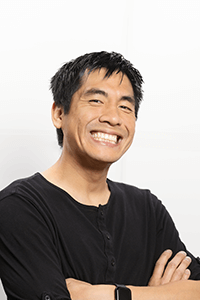 Mike - Website / Video Manager
Mike Wu is a stunt performer in the film/tv industry, and has a background in martial arts and acrobatics with over 10 years of training. His previous credits include stunt/fight coordinator on The Flash television series, as well a stunt performer on other series such as Arrow, Supergirl, and The 100. Mike also has an extensive background in cinematography and online media, and is the manager of Acrofit's website, videos, and online marketing.